When I was a kid, my favorite time of the week would be when Walt Disney's "Wonderful World of Color" would come on TV. The whole family would rush to the sofa, just like the Simpsons do, to enjoy an hour of delight. I thought about this, because I just got back from the WonderCon, which moved to Anaheim this year. It was held in the convention center, right across the street from Disneyland. The original name for WonderCon was "The Wonderful World of Comics", but they shortened the name over the years. I just realized the connection.
I took a couple of years off doing major conventions, and quite a few people stopped by to remind me that I swore them off. The reason I got back, is that my stock of vintage comics has grown tremendously. I work on back issues pretty much full time, and I have a full time staff member, Nik Houser, assisting me with them. Richard Garcia is constantly pricing back issues for me, and the rest of the staff is busy packaging them up between sales. I've got about 10x the stock since I last did conventions. I've mostly been selling the back issues on my ebay store, but I wanted to see how they would do at a big show.
I'm keeping my return to conventions lean and mean. I did the WonderCon, and will be doing the San Diego con out of 1 booth, rather than the 2 I used to take up. My only staff member is my son. The idea is to keep the booth simple, and keep expenses down. We had 3 different items categories that we were displaying. We brought the "Wall Comics". Those are all the back issues with a value of $20 or over. We brought the Pure Hero shirts. We brought about 20 boxes full of $2 vintage comics bargains.
Despite the weather, It was an easy, pleasant ride both to and from the convention. The weather was very cooperative. It wasn't raining there or back. Set up was easy. We drove up behind the convention center and unloaded the van. Everything fit on 1 palette, which was quickly forklifted in. We spent the day getting the displays and merchandise set up just right. I think we got just the right mixture of display. We also had enough room to move around the booth comfortably, which is a feature that is often overlooked in booth planning.
The $2 vintage comics were popular, and we sold around 3 boxes full. That probably paid for the booth. We sold a few shirts, probably enough to pay for the gas we used getting to and from the show. Most of the volume came from the Wall books. Sales on them were good, but most of the sales did go to dealers. A notable sale was an Avengers #1 CGC 4.0 (very good), which sold for $1,100 to a dealer who was set up right across from me.
I thought the show was pretty good, and enjoyable. What I heard from the dealers I talked to is that they felt that they would have done better in San Francisco. I was right next to the huge T-Shirt tower, and I didn't see nearly the number of people swarming around it as usual. The vibe I get is that most people did slightly better than break even. I think that the convention folks should work on getting this show back to the Bay Area where is is better established. Since they did okay in Anaheim, they might want to add a show there to take care of the San Diego overflow.
Anyway, it feels great to be back home.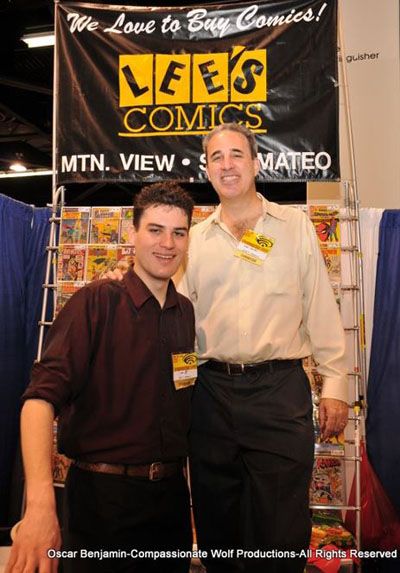 Lee IV and Me at the Booth. Photo by my pal Oscar Benjamin.



Here's a beach towel I bought at a nearby gift store. Comics culture is now mainstream culture.



Here's a detail from a tower of posters at the convention. A fan favorite Neal Adams cover. These posters are from large poster companies. Comics culture is now mainstream culture.



I've got to admit, the posters from Before Watchmen look mighty cool.



The WonderCon had a very large artist's alley.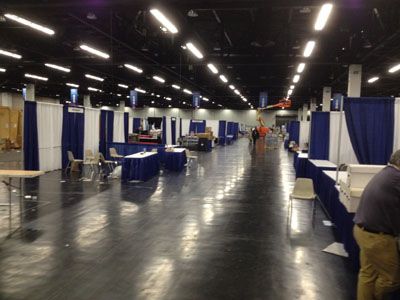 There is always a little sadness when the glittering weekend world you knew is heaving it's last sigh.