Since July will mark my 25th year in the business, I thought it would be a good time to look back at the early years. To help me remember some of the details, I hauled out all the old photos that I could find, and scanned a number of them.


I have been a comic book fan since the age of 12. I started selling comic books at flea markets at the age of 15. Back then it was all back issues. I had a policy of reading every single comic before I sold it. I eventually had to abandon this policy when the stacks got too high. Selling at the flea market seemed like easy money to me. On a good day I could make one or two hundred dollars. That was a lot of money for a teenager in the 1970s.


I grew up in south Palo Alto. I attended schools there. Fairmeadow was my elementary school, Wilbur was my junior high school, and Cubberley was my High School. I bought my comics initially from the newsstand. Later on I discovered that a fellow named Don was selling comics from his father's coin store, Consolidated Coins, on California Street on Saturdays. I would usually go there each week. A little while later, I believe in 1977, Comics and Comix opened on Cowper Street in downtown Palo Alto. This was a really outstanding comic books store. It was one of the first modern ones. It was really run like a business. They were very ambitious. They had clean, well-lit stores in nice areas. They had long hours and good workers. They had an incredible selection of comic books and pop culture items. They were kind of like the way Tower records was in their heyday, but oriented towards comics. They were opening up locations all around the Bay Area. They advertised on the radio, in newspapers, and TV. In many ways I believe that this Comics and Comix has never been equaled. Without these stores, showing me that it was possible to make a living by selling comics, I probably would not have thought about opening up my own store.


I started Lee's Comics in Alma Plaza in Palo Alto, at the age of 21. Alma Plaza is on Alma Street, near the corner of East Meadow. I was living across the street with my girlfriend, soon to be wife, and later to be ex-wife, Kathie. One day I had a walk through Alma Plaza, and noticed an empty store in the back. I looked through the window envisioning a comic book store there. I copied down the number of the realtor. Two weeks later I was open for business.


I didn't have any money, experience, inventory, or plan. I didn't let a few trivialities like that stop me. I dove in headfirst. My store was 700 square feet inside, and my initial rent was the princely sum of $300 a month. The location was a very poor one because there was no street visibility. It was in back of other stores and there was little walk by traffic.


I painted the inside of the store, and scrounged up any kind of used fixtures that I could find for free or close to it, mainly ones that had been abandoned behind stores. For some reason, I painted red racing stripes down the walls. For a while I wouldn't put anything over those stripes, but I eventually relented as I started putting more stuff in the stores. I made my own simple comic racks using pine boards slapped together. At first I stained them, but later painted them white. These make pretty good racks for new comics. They are fast to build, and don't cost very much. Around $30 a piece for the wood as I recall. They were good for my first store because they take up less than a foot of floor space, and the store was quite small. I could make about 5 of them in a day if I really worked hard. It's funny, but I still see this design used in stores all around the bay area. Brian's Books used them, and you can still see these racks in the new incarnation, Illusive Comics. Big Guy's Comics used them as well, and I believe they are still in use at Comics Collector Shop. I remember that I had to anchor them to the wall because otherwise they tip over easily. You also have to make sure that no one sits or stands on them, or the shelves will break.


You always hear a lot about overnight successes. I was an overnight failure. On my first day, my "Grand Opening", I made $150 in sales. After that it was an average of around $20 a day for quite a while. Nobody knew about my store. Eventually I was making an average of $100 a day. Meanwhile, my competition, Comics and Comix in downtown Palo Alto was averaging 1,000 a day. Ten times better than me! Most people in Palo Alto knew about Comics and Comix, but they didn't know about me. I tried to make up for my competition's vastly superior store and reputation by working on winning over each person that came through the door. Eventually that policy paid off, and I began to break even, but there were some very lean times initially.


In the beginning I had a hard time keeping my nose above water, but I refused to quit. I didn't have enough money to keep going. I bounced the rent check, then the utilities, then the phone bill. I bounced the check to my distributor, Bud Plant, and they put me on a cash only basis for a while. I ate a lot of Top Ramen Noodles in those days.
Here's me and Kathie on the first day. You can see the flyer that I made on the window. I put these all around town.
Here's Marc Margolies. He was my friend in the early days, and helped me a great deal for free. Note the cigar box for putting in the money, and the pad of paper for writing down the sales. Back then, there was no tax on periodical publications, including comics.


Marc and I spent a lot of time together in those days. Later we had a falling out. I can't remember why. He started his own store "Comics Conspiracy" in Sunnyvale that is still open to this day, under new management. Sadly he took his own life by downing an entire bottle of Tylenol. His partner in the store, Doug Myers also died tragically young, more recently.
Here is another picture of the store from the early years. You can see that there is not much in the way of product or fixtures on the inside. It's mostly a few tables with back issues on them. The counter was a glass one that someone gave me. It had a crack in it, which we covered up with a poster.
For a while we had video games in the store. I liked to play them too.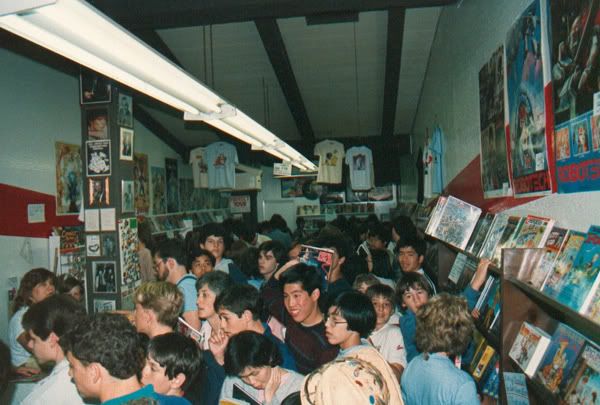 Now we flash forward a few years. The store has gotten more filled in with product and fixtures, and I sales were starting to climb a bit. Comics and Comix was still dominating the area, but I was doing slightly better than before. I tried to make the store a little nicer each day. I had some help now. Mark Crane had joined the staff. I was putting out a newsletter for my customers entitled "Lee's Bullshoot Bulletins". There were new comics and graphic novels around the store, and back issues in the middle. Some of the photos have date stamps on the back. Here is the fist dated one. It is from April 1986.


This was our "Moonlight Madness Sale". It was my first really successful event. We were open late, and I hired searchlights for added drama. Lots of people came. There were over 100 people packed like sardines into that tiny store. Luckily no one was hurt. After that, I learned to post a doorman at events and set a limit to the people that could come in. You can see Ellen Layendecker behind the counter. She was a good customer and also helped me with all the newsletters. She had just showed up to the sale to shop but I quickly deputized her to help out.
Here's another view of the event. You can see Kathie, pregnant at the time with my son Lee Hester 4, helping out. Next to her is Mark Crane. He's wearing the Lee's Comics T-Shirt designed by Terry Smith a local comics fan who later on designed the logo for the San Jose Sharks.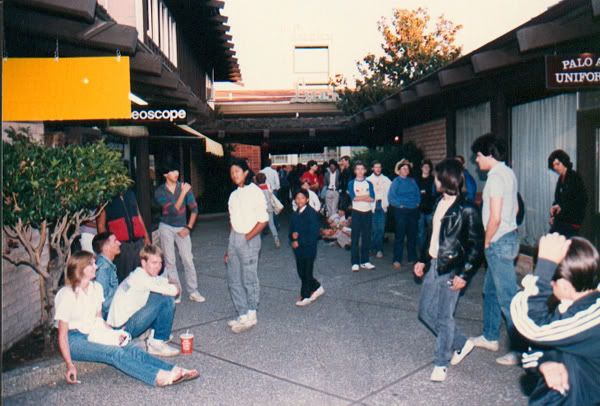 This one is dated September 1986. The crowds are lining up out front for another sale. You can see the sign of my long-time neighbor "Videoscope". Off in the distance is Lucky, which later changed to Albertson's. That center is empty now. It has been empty or mostly empty for years. It's like the place up and died when I left. There seems to be some progress in rebuilding something new there lately, or so they say.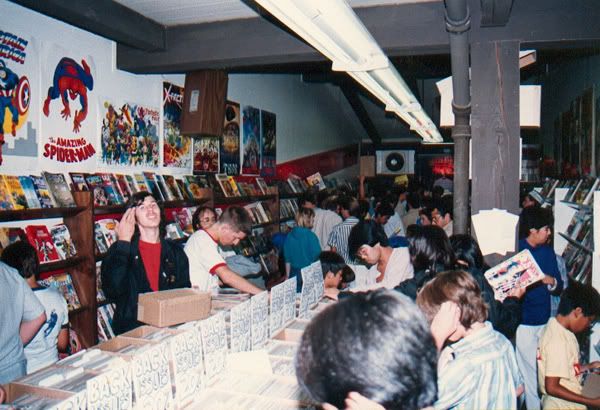 Here's a shot of the interior taken from the back of the store, from the same day. The customer in the red shirt is named Bruce Mendez. He was a regular back then.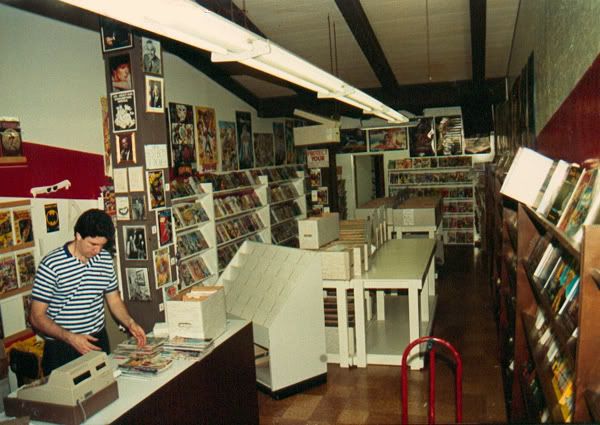 Here's an undated photo. The white rack was what we used for that week's new comics. At one point it was a panty hose rack. Nona, the owner of Videoscope probably got it for free, but she sold it to me for $50. It was a great new arrivals rack because you could store extra new comics in sturdy castered drawers underneath it. I think I was moving it out of the way to prepare for the sale. The store was so small that before special events, I moved as much stuff as possible out of the way to make room for more people. By now I had a wall put up in the back, and I had a small back room.
Here's Mark Crane in a photo dated October 1986. On the wall you can see my picks of the week. Look, Miracleman was #1. Behind Mark you can see our wall comics. To hold the wall books, I put up some strips of wood. The comics were held at the top with lengths of sewing elastic. In those days I tried to do the best I could without spending much money. Necessity was the mother of invention.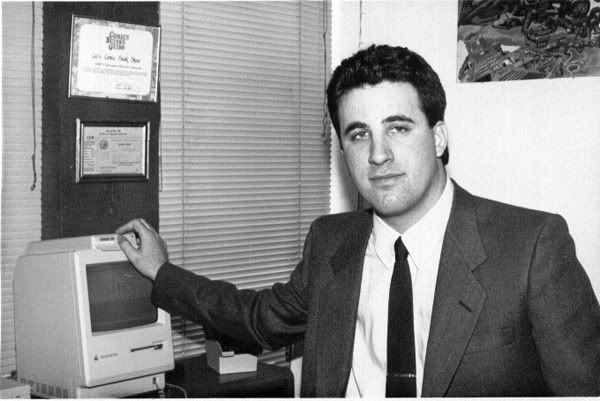 Here I am all dressed up for a promotional photo with my new Macintosh computer. A software company named Reflex took the pictures to promote our use of their program to pull our subscriptions. Mark Crane's best friend's mother, Betty Mackey spent weeks customizing the software so it would work for us, and it was way ahead of its time. I don't think we paid her nearly enough for all the time she put into it. We just didn't have the money at the time. We even beat Comics and Comix to the punch on computerized subscription pulling. We kept that program for years until Mel Thompson's Comtrac took over for it. My desk was right by the front window at the time. You can see the bottom of a Kirby collage by my head.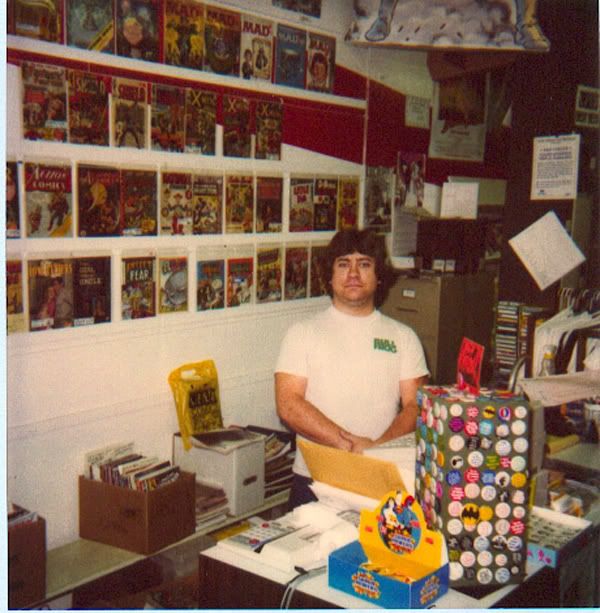 Here's a Polaroid photo of Eric, one of my workers from the Alma street store.
Here are Jody and Glenn Lucebrink. Glenn worked for me full-time and Jody helped out on a part-time basis. This shot was taken on Halloween 1986. I saw Glenn recently when he came in to sell me all his old comics. He and Jody are now married and have children. Glenn was a really great guy. He was a very bright and decent fellow who loved new wave music. He had a wicked sense of humor.
Here is a shot of Jerry Boyd, Shawn Tracy, Me and Dan Catrell. The picture is dated October 1987. We are celebrating Shawn's birthday as you can see by the cake. This was taken after hours. We had been doing some work on the store, or had just finished up with a big event. I was working shirtless, and I put my shirt partially back on for the photo.


Shawn was a very popular clerk at Lee's Comics. He had a great sense of humor, and was a very likable fellow. I hear from Shawn from time to time. He is married with 2 boys, and living in the Midwest. He reads my newsletters and sends email comments from time to time. I was surprised to hear from Shawn recently. He looks back on those more simple times with great affection. We weren't making a lot of money, but we were happy. The fellow on the left is Jerry Boyd. Jerry grew up in Palo Alto, but is now living in LA. Jerry would often help out at the store when we needed him. Jerry and I remain good friends. The last time we got together was in LA for Jack Davis's tribute dinner at the Cartoon Art's Professionals Society. Jerry goes to many conventions as a fan, and he is well known for his wit and great personality. Dan was a friend and neighbor who would help out in the store from time to time. I haven't seen him in decades.
Here are a couple of posed shots. A guy came into the store and told me he wanted to use me as a model for a company that he was starting up. He was going to make photo business cards. In exchange for posing for him he was going to make me some cards. He took the pictures and then I didn't see him for a long time. I had finally forgotten about him, and he came through with the cards and copies of the photos that he took.
Here's a photo dated 1986. It's Mathew, a really nice kid who spent a lot of time at the shop. In the first couple of years I had very few customers to keep my busy, so I passed the time reading comics all day. After a while I read everything in the store, including all the Archie Comics. Sometimes I would play monopoly with the neighborhood kids, or borrow a TV and VCR from Videoscope and watch Bugs Bunny cartoons. I've never fully grown up.


Mathew's mom invited me to a party at her house. I mingled with the guests, many of them were amazed that I was attempting to make a living by selling comic books. The wiser heads suggested I face reality; pull the plug on my failing enterprise, and get a real job. This was the advice of my parents, too. When dinner was served, I was placed, not at the main table, but at the small adjacent card table with the kids.


That wraps up the early years of Lee's Comics.


Here's a brief outline of the major events in Lee's Comics history. We covered the first item today. The next items will be covered in future installments.


1982 The first Lee's Comics store opens in Alma Plaza in Palo Alto.

1987 The 2nd location is opened on El Camino in San Mateo.

1990 Lee's Comics Palo Alto re-locates to a larger store on El Camino in Palo Alto.

2001 Lee's Comics Re-Locates it's Palo Alto branch to Mountain View.


If you have any photos or recollections of Lee's Comics history, please email them to me.