The 26th Anniversary Sale was a smash. We were mostly working like the dickens to serve the customers, but we had a chance to take some photos at both stores. Let's have a look, shall we?
We'll start in Mountain View, were I was setting up. This year, we erected a canopy to protect the shoppers (and us!) from the harsh glare of the sun, as we roasted at many previous events. Wouldn't you know it, it was mild and overcast. I got the canopy at Costco for around $200. That's a lot of money for me, but I really like it. It's a snap to put together. It will be nice at future outdoor events.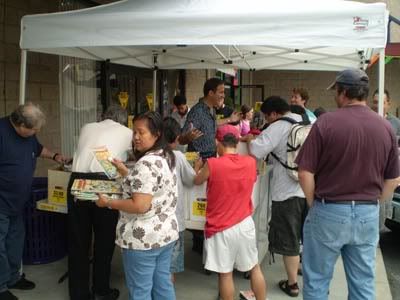 We were scheduled to open at 10:00, but we started setting up at 9:00. We decided to give the early birds a break and start selling early. This shot was taken at around 9:30.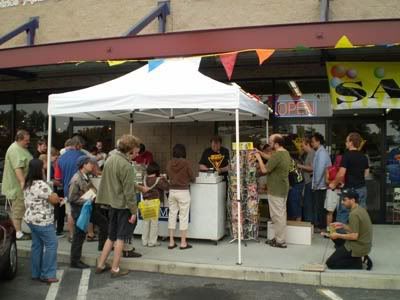 As you can see, it was really busy at first. Lots of people apparently wanted first picking at the best bargain books. We had tons of 26¢ comics, and $2.60 graphic novels. People also came early to claim the $10 Lee's Comics gift certificate. (The first 26 people got one.)
In this and the last shot, you can see my buddy Mark Arnold. He often helps me out at sales and conventions. He's a good worker, and he knows more about pop culture stuff like comics, music, cartoons, and movies than just about anyone.
Yep, it was chaos for the fist couple of hours there. You really can't control it, you just have to relax and go with the flow.
This year, we were giving out prizes every hour on the hour by random drawing. You had to be there to win. The winner was presented with some flashy neckwear with the prize name emblazoned on it with a labeler. The winner got to strut around showing off their bling bling. Here's the first grand prize winner. He won a Pure Hero Shirt. He chose a Venom crew shirt.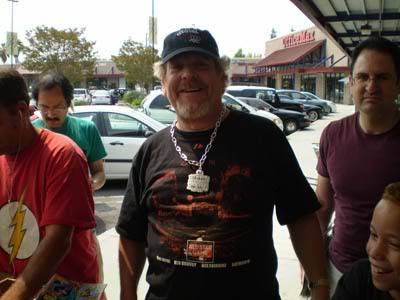 Here's another winner, our buddy Jim Reil. He's keepin' it Reil. He just won a drawer box, which he'll be keeping his drawers in.
Here's another happy winner, and a very lovely gracious person. I didn't take down all the names. I'm a comics dealer, not a reporter!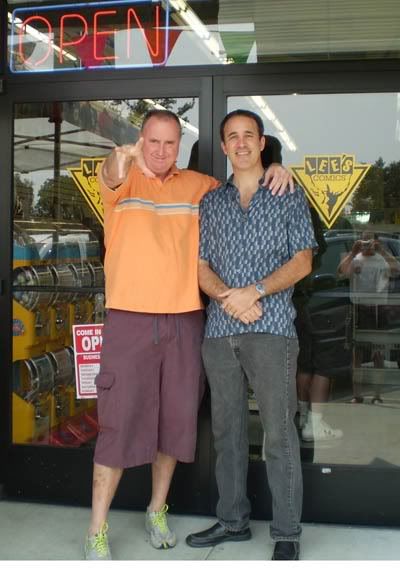 Here's my buddy Ron Murry. I'll see him again next week, as we share a booth in San Diego. Ron found out about my Anniversary sale on the Collector's Society Boards, and stopped by to help us celebrate.
Another happy winner.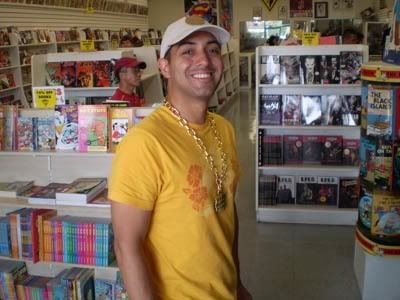 Ditto.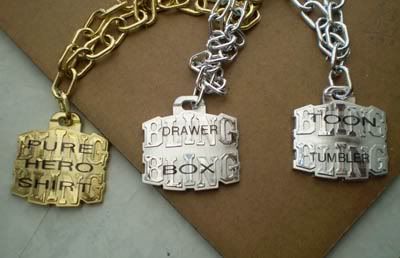 Here's a closer look at the award idols, purchased at great expense at the local Dollar store, and labeled with a P-Touch. This was really a fun way to give out prizes. Everyone had a blast!
A grand prize winner.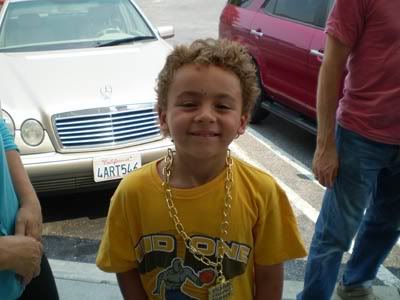 This young man really, really, really wanted to win. We were almost as happy to see him win as he was.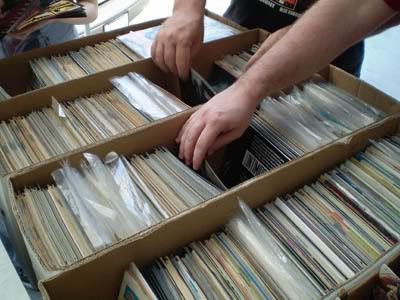 It looks like this picture was taken by accident, but I kind of like it.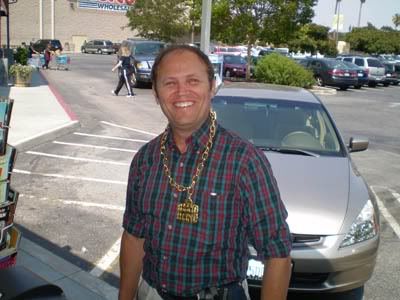 Here's long time customer, Gary Rubin. He won the grand prize. I bet he'll make good use of a Pure Hero Shirt!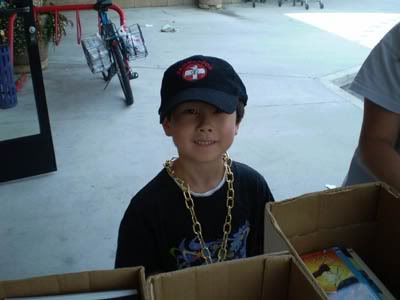 Another prize winner. Between the 2 stores, we gave out 60 prizes. If you visited either store, your chances of winning were very high!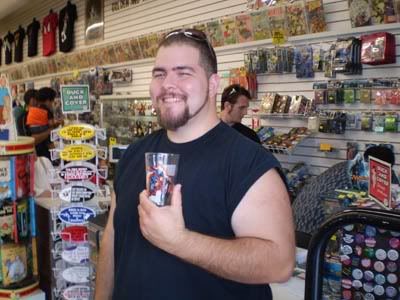 It was fun to see people win our 2nd prize, the Toon Tumbler. They got to pick their favorite cup. This gentleman choose Ghost Rider. You can see, he's pleased as punch!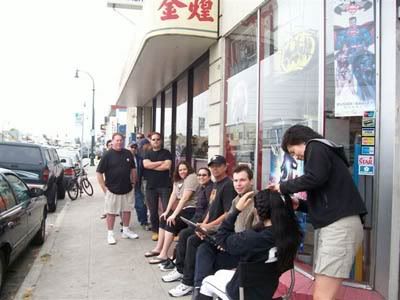 And now our view turns to San Mateo. Marvelous Mark Crane was master of ceremonies. You can see the loyal San Mateo comic book fans gather for the fun and bargains.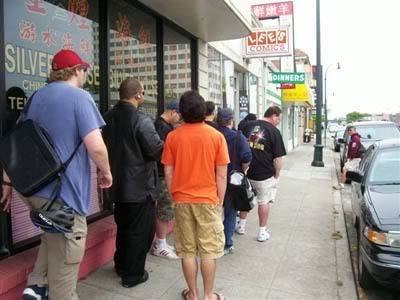 The San Mateo fans are a hardy, and loyal bunch. We love 'em!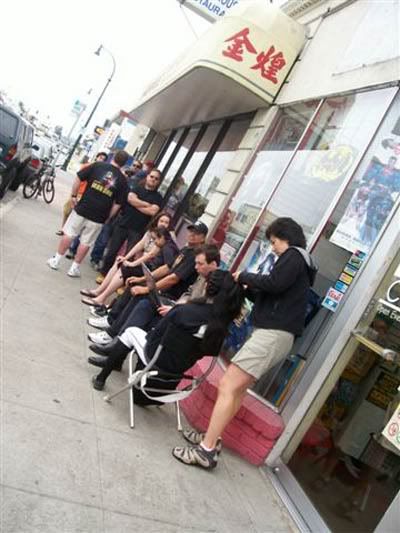 The excitement builds.
Here's a series of shots taken in the interior.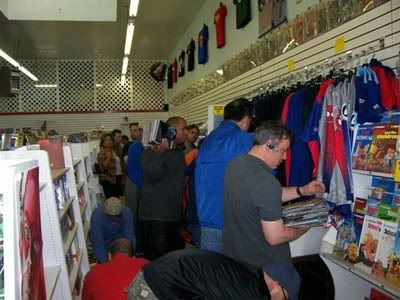 If you have the chance, make sure to check out our San Mateo store.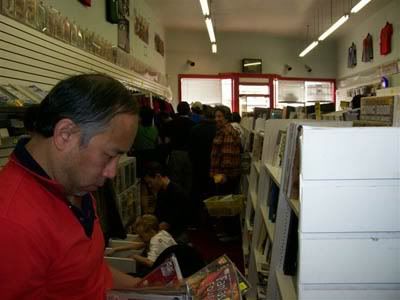 There is a different selection and layout at both stores.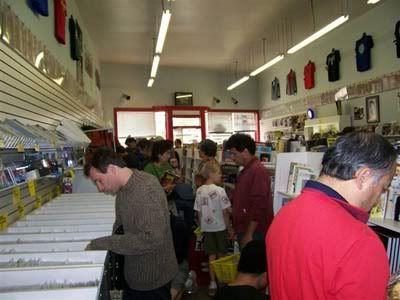 We re-arranged San Mateo recently so we could fit more Graphic Novels.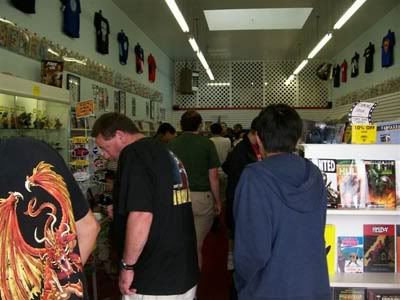 Well, that ends out tour of Lee's Comics on Saturday July 12th, as we celebrated our 26th Anniversary. Thanks for joining us. I really appreciate it.