It's been a couple of weeks since the San Diego Comic Con ended, so this report is going to seem like ancient history. I'm sorry for the delay in posting this. The fact is, that doing the convention the way that I do it these days is exhausting. It takes a long time to recover your energy, and it takes even more time to get all the stuff that I bring to the convention put back where it belongs. Then it takes more time to catch up on the things that you missed while you were gone. As of this writing, I'm still not fully caught up. Here's a re-cap of the convention from last week's email. By the way, if you are not a member of my email list, I invite you to
join
.
I was more worried about the San Diego Comic Con than ever, but it turned out to be the smoothest ever. A great deal of my worry stemmed from my back injury this year. I have a bulging disc in my spine that is located at L5. This put me flat on my back for 3 weeks about 3 months ago. I could hardly stand up and the bottom of my left foot was numb. It has gotten better. I can walk now, but I still get weak and sore there.
Setting up at the Comic Con is grueling, backbreaking labor. Even before the injury, it usually took all the strength I had to make it through the show. I was worried that I would collapse before the show was over this year.
In the old days, Mark Crane would drive the van down to the convention with another staff member. I would fly down, and meet them there. I would buy my own hotel room. Things have changed. These days I load up the van and drive to the convention with one helper. As well as doing all of the driving, I do much of the set up and tear down. To cut down on the expense, I share a room with my worker. I was afraid that my back was not going to hold up.
I left on Tuesday morning at 7am from my home in San Jose with my helper for the con, the intrepid Mark Arnold. I arrived at the convention center in San Diego at 2:00pm. Miraculously, there was very little traffic on the way. I drove at speeds of around 80 miles per hour most of the way. Another miracle happened in the parking garage. I got a spot right in front, about 50 feet from the elevator. I also happened to be right under my booth spot at the convention in the parking lot, which was at the spot designated b1. Mark and I quickly moved all the boxes and other stuff in, and got things in order until 8pm that evening. We then joined Ron Murry and some other dealers for a nice dinner in Little Italy, where we were staying.
On Wednesday morning we got fully set up. We started selling right away. Preview night officially started at 6 pm, and the crowds came in to franticly shop until they were ejected at 9 pm.
The next day, my son Lee Hester the fourth arrived. He really wanted to help me, so he arranged to fly in and meet me there. My wife Connie headed in with our daughters Hannah and Sophie for a vacation. My son worked hard at the booth each day, and also ran numerous errands for me. His assistance, along with Mark Arnold's and the help I got from Ron Murry who I share table space with helped get me through the con in one piece. Connie and the kids gave me a great deal of much needed moral support as well.
Sales were great. Our best selling items by far were the Pure Hero shirts. This was the first time that I had the opportunity to show them at the San Diego Con. It was my hope that they would be a sensation there, and that's exactly what happened.
Since I was worried about my back going out, I tried to conserve energy. I tried to sit down from time to time, and I tried to go for a short walk in the room every now and then. My leg and back did get sore, but not to the point where I could not function.
This was a really fun convention for me, and most everything went smooth and easy. Here I am, back the next day after driving home, and I feel fine despite the strain on my back and the lack of sleep.
How could I perform better with an injury than I did when I was in perfect health? I think back to when I played racket ball with a friend. He was a good player, but he tended to run around the court like a wild maniac. I would try to turn this to my advantage by carefully placing my shots to run him around even more. We were usually about even on the scoring. Then he got a foot injury. He could barely move. He still played racket ball with me, but he had to concentrate on each shot. He stared to use his head more than his body. Each shot was carefully planned. I was amazed, because overnight he became a superior player. After he got hurt, he started scoring much better against me than when he was in perfect health.
There's a lesson in there somewhere. It's not what you've got, but how you use it.
The San Diego Comic Convention is not just 1 Convention. It's a hundred thousand different ones. Here's a view of ours from booth 1100. We spent the better part of 6 days there. The photos are presented in chronological order.
This was the first time I had seen my friend Dave Hawksworth from Diamond Comics since he suffered a stroke in Germany. I was very happy to see that Dave is doing well. If you read the earlier posts, you will see a picture of me and Dave from the WonderCon, several years ago.
A view of the full booth. Mark Arnold mans the fort.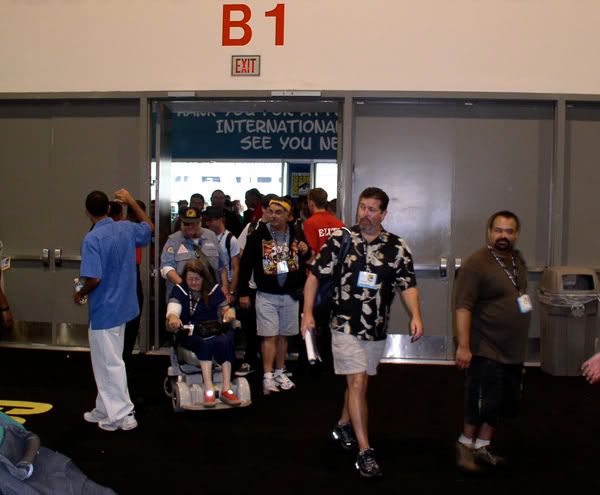 The first customers rush in for preview night.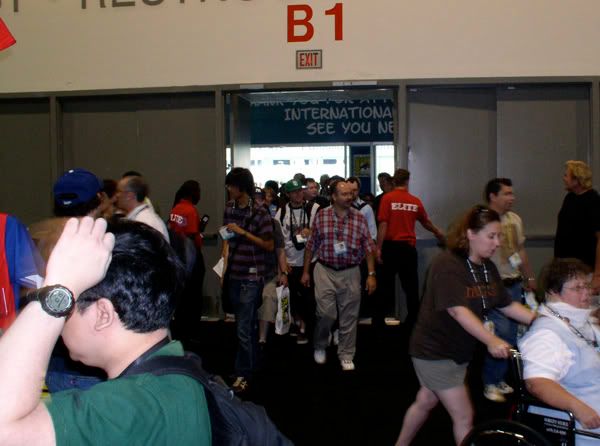 Jump back Jack 'fore 'yo skull is cracked!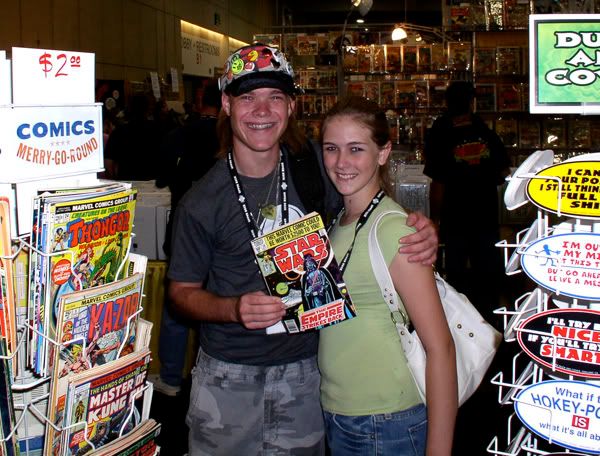 In the program, we ran a notice that we would be giving a free comic book away to the first 100 people who asked. This nice couple of kids were the first ones to ask for theirs. Here is what the boy chose.
My son "Little Lee" came by to help at the booth. He worked hard, and lent great support to the operation.
They were handing out cardboard 300 shields, and these enormous Superboy bags. The bags were so huge, I just had to get one for Connie. Connie is the queen of excess and she is able to overstuff any bag that man has produced. She may have finally met her match with this one. The challenge is to keep it off the ground.
As you can see, I accessorized my shield with the giant bag as a cape. I was hoping to form a phalanx of warriors to fight my way to the other side of the convention floor. For Sparta!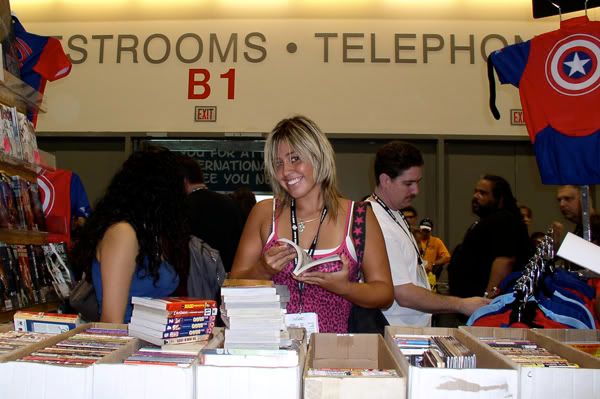 More customers enjoying our selection of sale Manga books.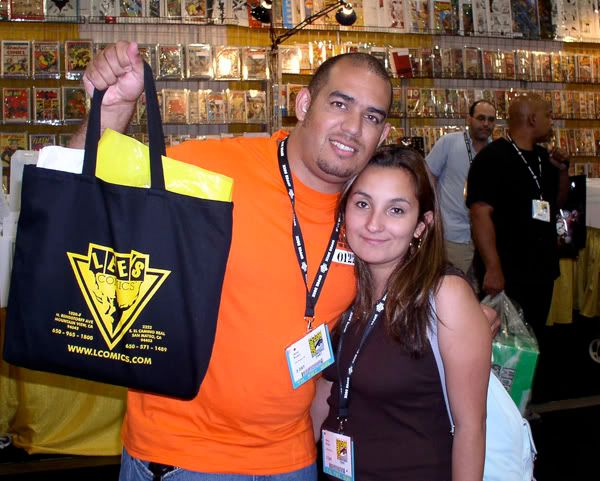 Here are a couple of loyal San Mateo customers showing off their Lee's Comics tote bag which they got for free at our recent 25th anniversary sale.
San Diego is a good town to get hammered in.
Here's Palo Alto local Dwight Boyd enjoying the show in his new Lee's Comics Pure Hero Fantastic Four Crew Shirt. Dwight is Jerry Boyd's younger brother. He's the cat with the deep, deep voice.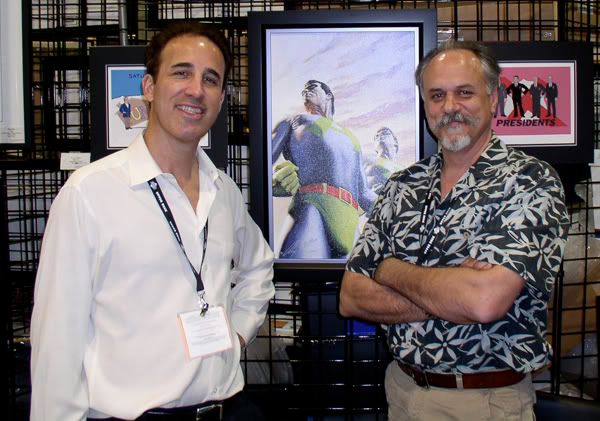 Here I am with J.J. Sedelmaier, the producer of Saturday Night Live's hilarious "TV Funhouse." You can see a reproduction of Alex Ross' ambiguously Gay Duo painting behind us.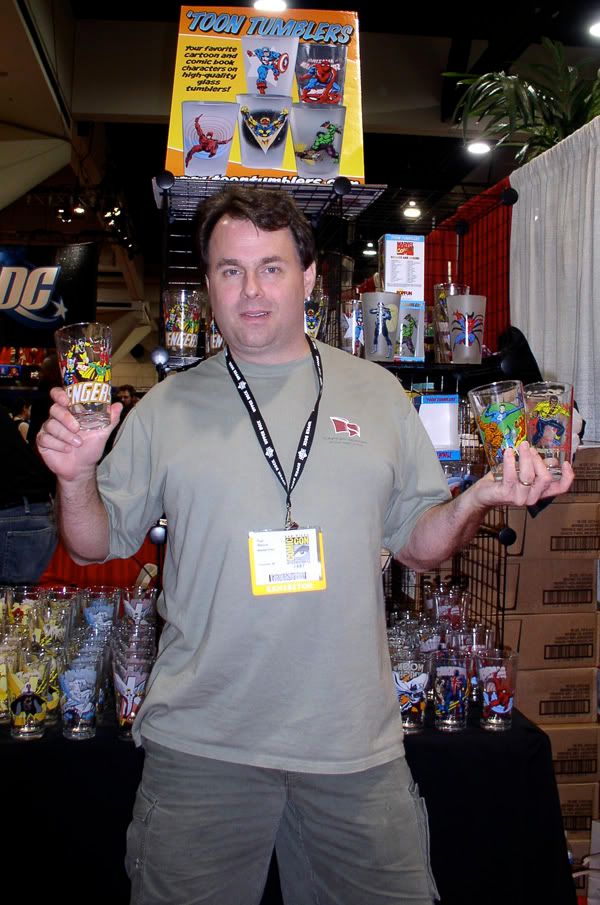 Here is Peerless Paul Merolle the man behind "Toon Tumblers". They are like the much-loved Slurpee cups of my youth, but they are on thick, durable glasses that can withstand the dishwasher. For me, this was the #1 new find of the convention. I already have them in my home. You can buy yours at Lee's Comics!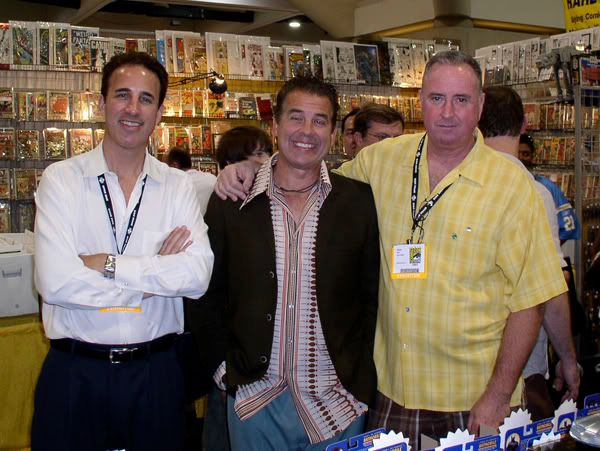 Here I am with Brian of Bunky Brothers, and Ron Murry who I share table space with. These are a couple of comic book dealers who also enjoy the finer things in life.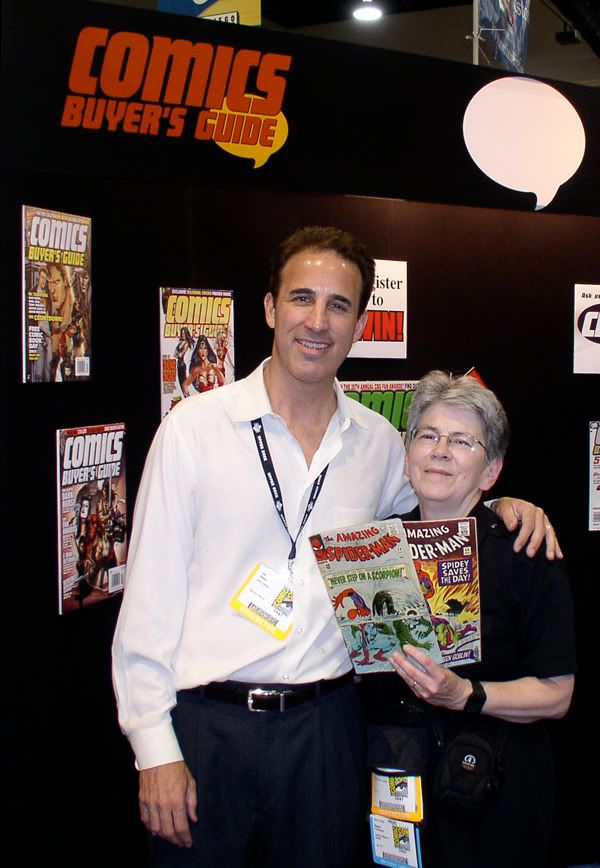 Here's Maggie Thompson, editor of the Comics Buyer's guide. Maggie is an industry treasure. I'm helping her put together a run of Spider-man issues #1-100, and I bring here new ones at each San Diego con. Here are a couple of more additions. We should be finished completing the run around 2040. After that, I'll have to figure out a new pretext to hang around Maggie.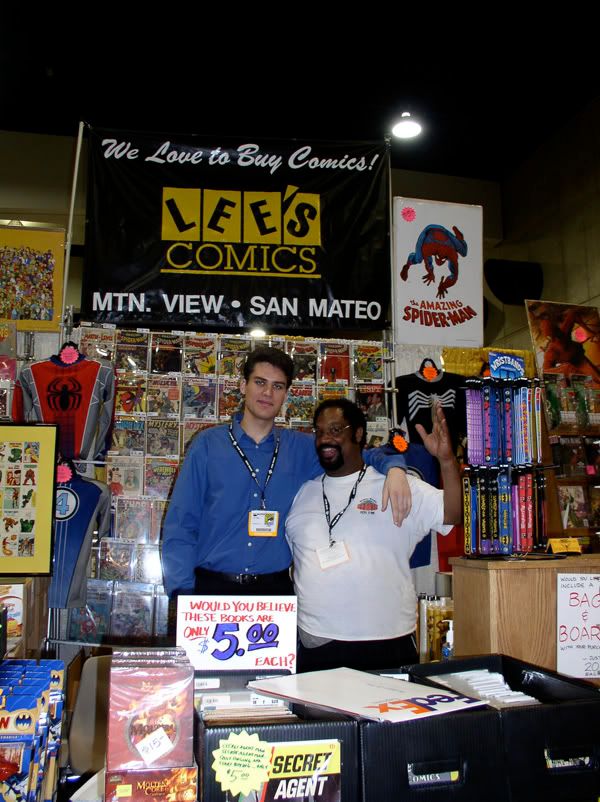 Here's my boy with my buddy Jerry Boyd. You can see plenty of other stories about Jerry if you look through the older postings.
Here is a lovely lady in a terrific Little Bo Peep outfit. She was also working at a nearby dealer's booth, but I don't remember the name.
Another day has passed. I can't remember what day it is. They days blend together. They are about to let in the crowds.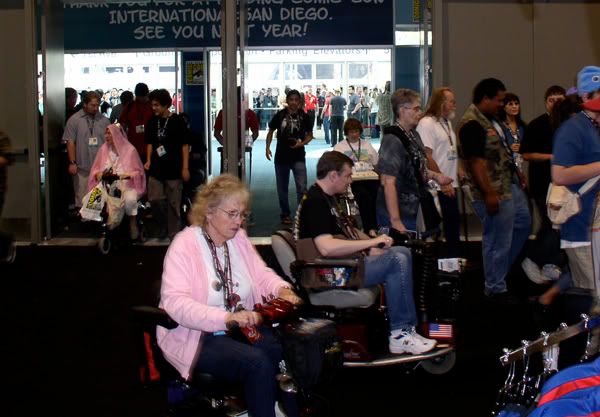 The handicapped are let in first. They are speeding off to some distant freebie table.
Okay, this scene is getting a little creepy. It looks like the dawn of the dead.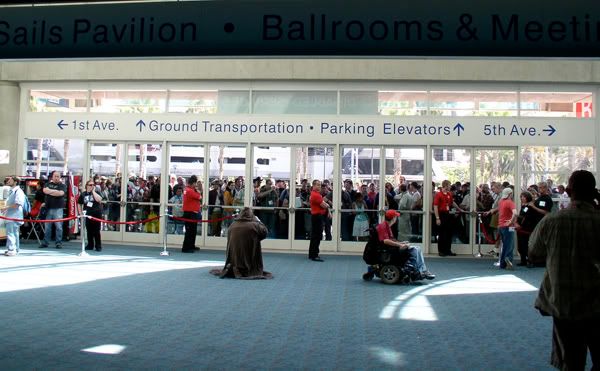 They press their faces against the glass, wanting only to get in to taste the wares.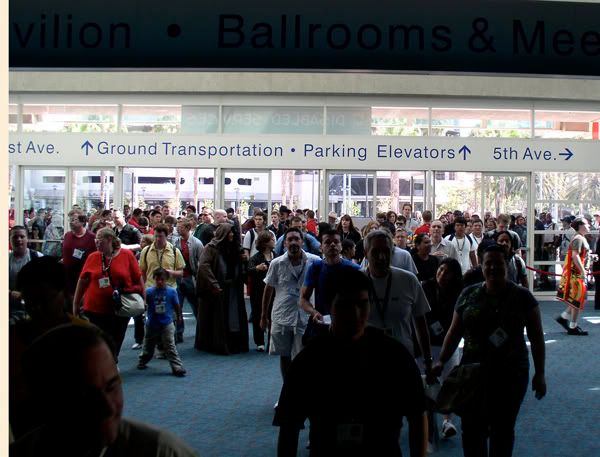 Suddenly the doors can hold them no longer, and they surge forth, oblivious to all in their path.
They just keep coming, their ravenous appetite is unquenchable.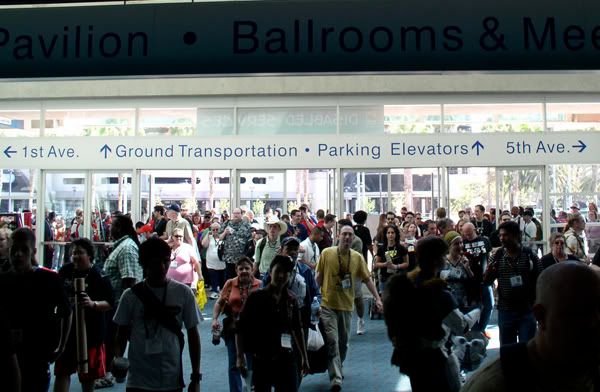 The only hope is to seek safety behind the barricades of the convention booth.
Made it! Safely behind the booth.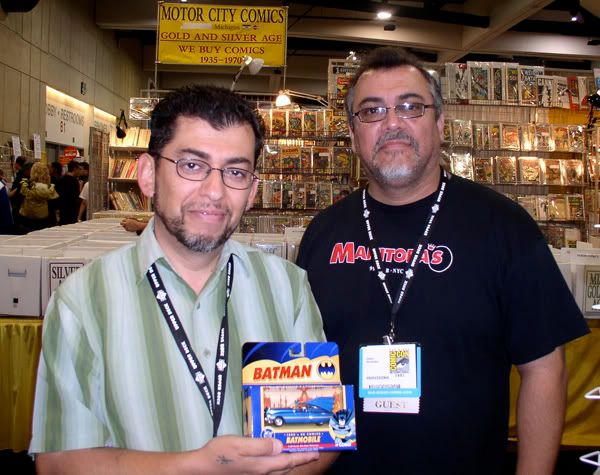 Here are the Hernandez brothers Jamie, and Gilbert of Love and Rockets fame. They are holding the Batmoble that they just purchased.
Here's Phoenix and friend.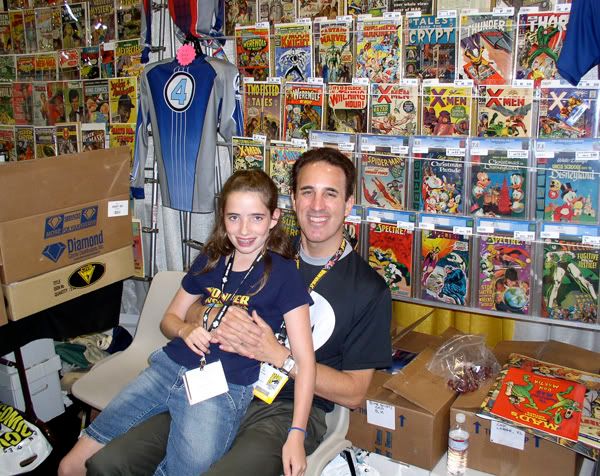 Wife took my daughters to a vacation to Disneyland and San Diego. They came by the booth to lend moral support. Here's Sophie at the booth.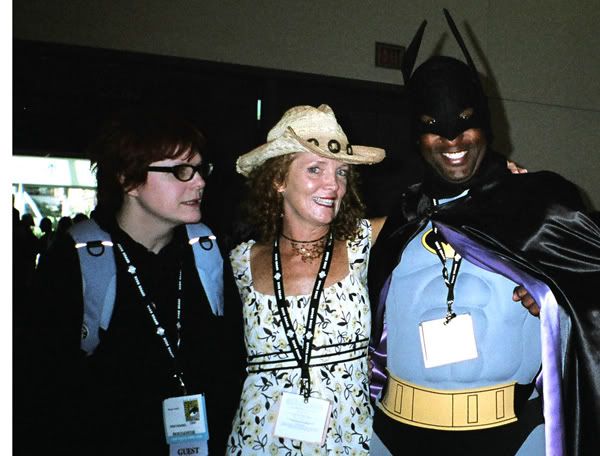 My wife Connie is in the Cowboy hat. On her left is comic artist Renee French. In the Batman costume is Dwight Boyd.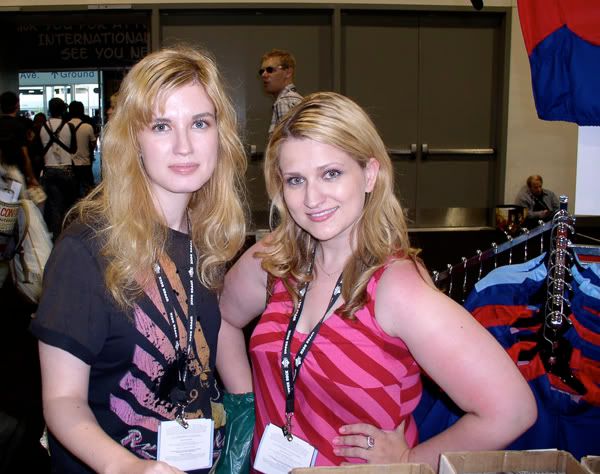 These girls were looking for the issue of Lois Lane where she turns black.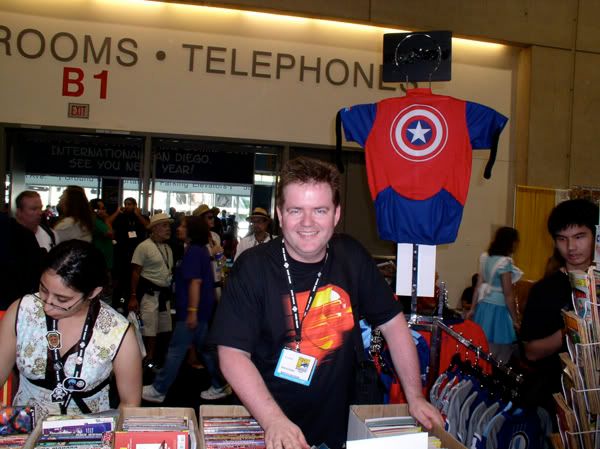 Look! We took a picture of someone who wasn't a pretty girl! The camera must have gone off by mistake.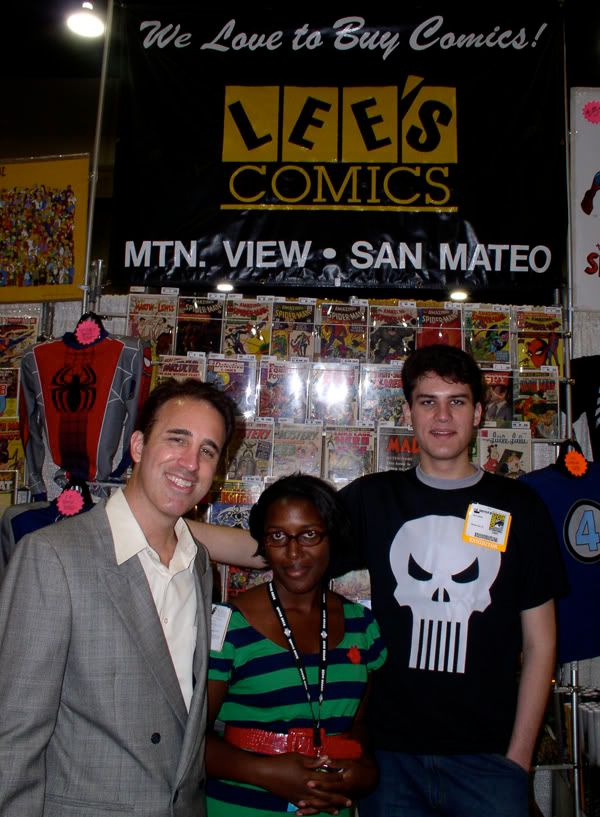 Here we are with Bernyce who has a cynical exterior, but a heart of pure gold.
Man and Superman.
Mark Arnold is the guy with the beard. Can you name the guy without the beard? He came up to me, and asked, "Do you know who I am?" I could not name him. It turned out to be Gary Carter, the former editor of the Comic Book Marketplace. He had not been to a convention in years, and had only stopped into the show for a moment. He is a teacher now, and he had a student who was having money problems that had a full run of Marvel Comics to sell. I was very flattered that Gary wanted to refer them to me. Gary is a really great guy, and he published some of my first articles in the industry. He also published Mark Arnold.
Here Amy Lumet the daughter of the Sidney Lumet, director of such classic films as "12 Angry Men", "The Pawnbroker", "Serpico", "Dog Day Afternoon", and "Network". She is pictured here with her boyfriend Michael Ryan, who is a personal trainer. They are wearing their new Pure Hero Fantastic Four BMX shirts that they just bought.
More manga fun.
All the bars, juke joints, and dance halls have shut down for the night, Ron Murry is back at his post.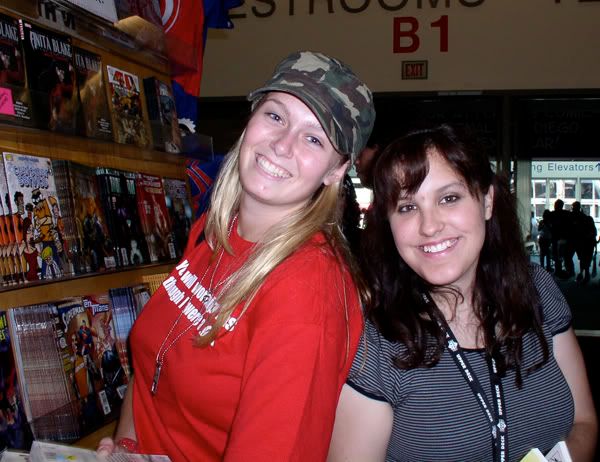 More regular customers.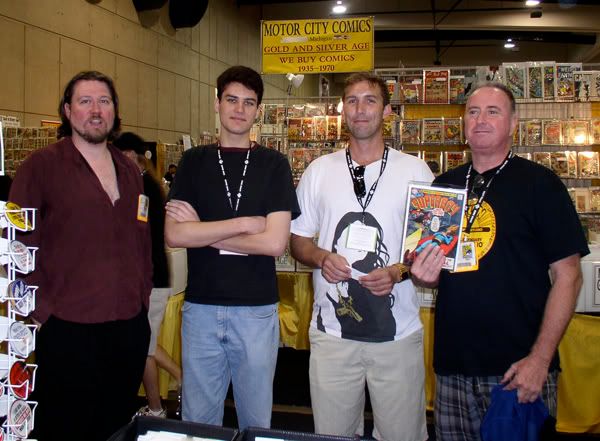 Here are some very tall men. They guy in the white t-shirt is 6 foot 7. I had my boy stand next to him. Then the guy on the left from Metropolis comics came running over. Ron Murry (a mere 6 foot 5) is on the left. This would make a good western, "The Tall Men."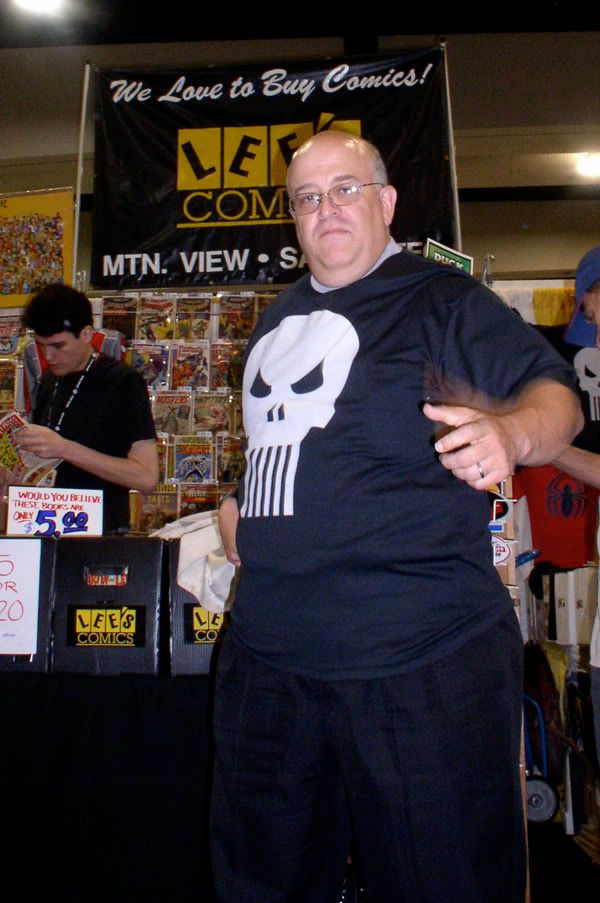 Famous comics writer Peter David strikes a pose in his Pure Hero Punisher Crew. Peter just got finished punishing the DC team as Marvel's pitcher in the annual Marvel vs. DC baseball game. Don't miss it in 2008. I hear it was a riot!
This report is riddled with factual errors, gross omissions, and the like, which I may or may not correct at some point. For now, I've got to get some sleep.