Our 30th Anniversary sale was an absolute smash! The response was overwhelming. So many of you came to extend your well wishes, and to congratulate me and my staff for achieving this milestone of 30 years in Bay Area comics retailing. I must say, I'm the one that's grateful. Thanks to your amazing support, we have been able to keep Lee's Comics not only surviving, but thriving over the years. Thank you for being a part of it. For that, I owe you a debt from the bottom of my heart, that I can never repay.
I know we were in for a busy day when folks starting ling up two hours before opening time. We gave away all 30 shirts a half hour before opening time. Most people were nice enough to go along with my request to put them on, so I got a great picture of the "Lee's Army", all decked out.
At 11:00 we had our big drawing where we gave away 10 $30 Lee's Gift Certificates. That was a huge hit. Henry and the gang from The Geek Speak Podcast was on hand to help with the festivities. Sommer from MightyVille came by to take part in the celebration as well.
My friend Mark Arnold gave me an amazing gift. He had a wonderful anniversary cake made up next door at Goldilocks, and surprised me with it this morning. It was a beautiful gesture, and an absolutely perfect gift. I can't tell you what a kick I got from receiving such a perfect and thoughtful gift. The Goldilocks staff brought it out after the drawing, and cut pieces for all the customers.
After that, Henry, and the Geek Speak crew interviewed me, the staff and some customers for the video podcast. I was amazed at how poised and camera-ready my crew is. I think they came off much better than me, and I'm sure the results will bear me out. I can't wait to see the show. I'll let you know when it is available online.
I was very pleased to see an excellent
article
about our 30th, written by Sal Pizarro in Saturday's edition of the San Jose Mercury News.
Sommer wrote a fantastic article about Lee's Comics on her new MightyVille website. This article captures what we are trying to accomplish better than any that I have read. Please
check it out
.
I snapped a few photos, but we will have a bunch more from both stores soon.
Now that the Anniversary Celebration is over, I have to work like the devil to get ready for the San Diego Comic Con. Me and my son will be set up at booth 1004 there. I'll be driving there on Tuesday. Life might be exhausting, but it's never dull!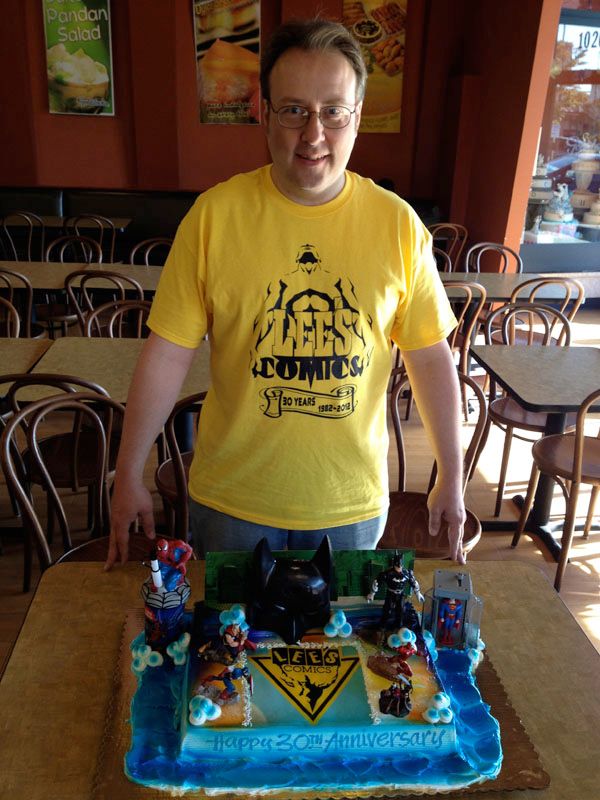 Mark Arnold and the incredible cake!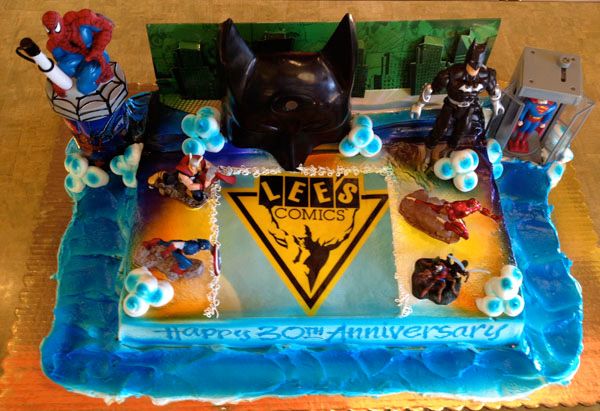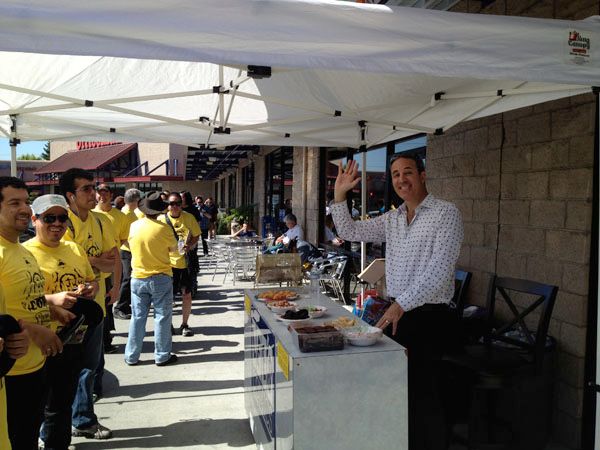 A huge crowd of more than 50 people lined up to get in!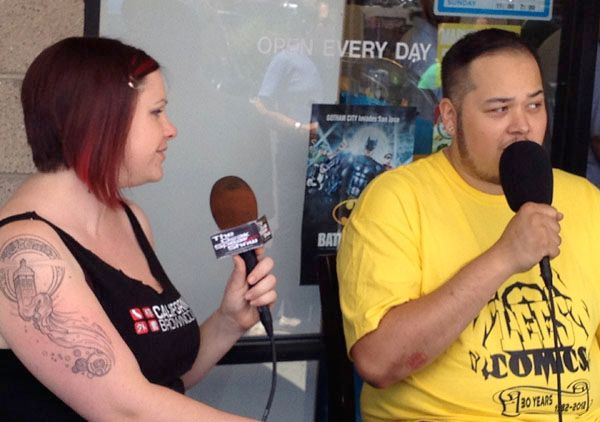 Tio gives a great account of himself. Richard was interviewed too. You won't want to miss the Geek Speak Podtcast!
Tom Rollinger presented me with this great gift. A wonderful picture of the FF!