Friday, November 30, 2007
Thursday, November 15, 2007
Let's keep the Stan Lee love-fest going as we sing along with the marching song of the Merry Marvel Marching Society!


Posted by

Lee Hester
at 2:52 PM
No comments:


Tuesday, November 13, 2007
Here's a video I took at the CAPS award dinner.


Posted by

Lee Hester
at 6:42 PM
No comments:




On Sunday November 11, I was pleased to attend a dinner in honor of Stan Lee presented by CAPS (Comic Art Professional Society). The dinner was held at a nice country club in Northridge, near Los Angeles.


We were all milling about in the lobby when Stan came bounding in. Despite his 85 years of age, he was spry, witty, and alert. He was throwing out quips and had the timing and delivery of Bob Hope. He went up to the desk and asked in a worried tone "Am I on the guest list?"


Friends and fans immediately surrounded him. I had traveled to LA at the invitation of my friend Jerry Boyd. One year ago, I had come to the same spot to join the tribute to the great Jack Davis.


This year, I was back again. I had never actually met Stan Lee, and I wanted to remedy that, if circumstances permitted. I went around the room saying hello to some of my friends who were in attendance.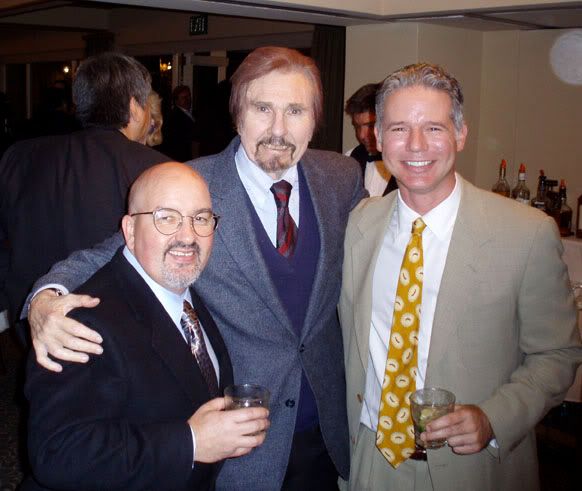 Paul Power Gary Owens and Michael Town.


I saw my buddy Raphael Navarro and his wife Irma. I talked quite a bit with Paul Power, and met his friend MICHAEL TOWN who is writing a new Image comic called Shark Man. I got a chance to talk to Gary Owens, a very nice fellow, who I had met earlier at the San Diego comic con.


I also talked to Javier Rodriguez, Michael Aushenker, Javier Nat Gurtler, Bill Morrison, Heidi Silver, Mike Wellman, and a bunch of other people I am probably forgetting.


After a while of circulating around the room, I saw that there were just a couple of people around Stan. I moved in and waited for my moment. Stan was talking intently with one person about the writer's strike. Stan made a good comment about the strike. He said: "You know they are going to settle this thing. They have to settle. They are going to settle three months down the road. Why don't they just pretend that three months have gone by, and settle it now? Why do they have to wait?"


I jumped in: "Because they have to wait until everybody is hungry." Stan nodded in agreement and looked over, and now I was a part of the conversation. I took the opportunity to introduce myself. I shook his hand.


Lee: Hi Stan, I've never had the chance to meet you before.


Stan: What's your name?


Lee: My name is Lee, and I own a chain of comic book stores called "Lee's Comics".


Stan: Is Lee your first or last name?


Lee: It's my first name.


Stan: Where are your stores located?


Lee: They are in the San Francisco Bay area.


Stan: You came all the way down from San Francisco to see me?


Lee: Yes, it's my pleasure.


Stan: How long have you been in business?


Lee: Twenty-Five years?


Stan: Twenty-five years? If you were just open for 4 years I was going to wish you luck, but after 25 years, it's clear that you know what you are doing. Say, some guys approached me about doing a chain of comic book stores called "Stan Lee's Comics" I was going to do it, but Marvel wouldn't let me.


Lee: That's a shame, I think they would have been a hit.


Stan: Listen, Lee, I have a terrible memory and I just heard a joke, so I have to tell someone before I forget it and it goes right out of my head, so I'm telling you. There was a guy standing around in a leather jacket, and a woman came up to him and yelled "You killed a cow so you could wear that Jacket", the man replied, "I didn't think there were any witnesses, now I have to kill you too!"


Just then Sergio Aragones walked up and I shook his hand and said "Hello Sergio". Sergio said "Hello my friend", Stan said, "His name is Lee!" and with that, I departed Stan's company a happy man. I went back to talking to friends around the room, and making new friends, content that I had my moment with Stan. He's a precious resource, and I didn't want to hog him for too long.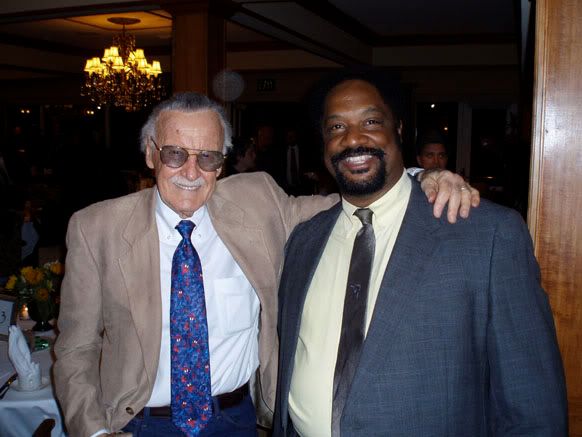 Jerry Boyd, with Stan Lee


Later on, Jerry presented Stan with a drawing he did of Stan surrounded by the characters 1967, 40 years ago. Stan was very happy to receive it. Stan has this special quality shared by a few truly great men. He manages to make all the people around him feel special.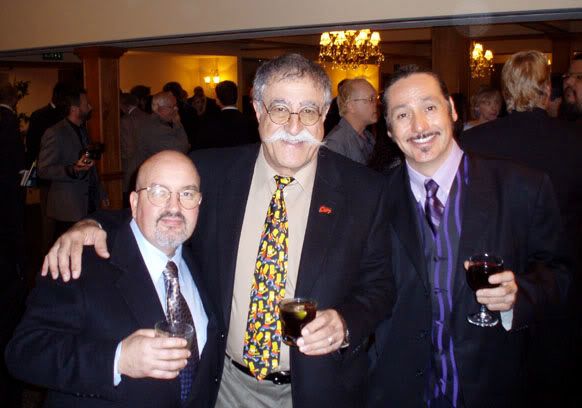 Paul Power, Sergio Aragones and Rafael Navarro.


After a while Bill Morrison called the meeting to order, and there were several lively presentations honoring the man of the hour. There were a couple of videos highlighting Stan's career. Mark Evanier gave, and Marv Wolfman gave excellent tribute speeches. Scott Shaw presented a special Stan Lee edition of his delightful Oddball comics presentation.


Stan Lee was presented the Sergio award by Sergio Aragones. He got up and delivered a terrific speech that had the audience in stitches. After he was done, he got up again, and said that he forgot to say something. He gave a short speech that gave his many collaborators at Marvel equal credit for the success of Marvel. I captured that speech on my camera, and hope to share it with you soon.


Sometimes life experiences can tech us valuable lessons. I believe I learned something from this evening, and I want to share it with you.


What makes Stan Lee tick? What can we learn from him? Stan Lee is an energetic, creative, witty and intelligent man. He showed great talent at an early age. He is constantly creating and improvising. He is an outgoing, guy who includes those around him in his fun and creativity. He is an icon that is loved by millions.


In the 1930's, and 1940s, DC comics brought forth a line of Super Hero comics that became familiar to the world. Many others tried, but it took an extraordinary man to create a new line of comics and characters that not only matched DC's output, but exceeded them in popularity. The new framework that Stan Lee created for American comic books is still the dominant one to this day.


The work that Stan Lee did is not always visible to some. You can look on to the pages of classic Marvel Comics and see the obvious brilliance in the art of Jack Kirby, Steve Ditko, John Romita, Gene Colan or John Buscema. Sure, it says that Stan Lee wrote Fantastic Four, X-Men, Spider-man, Daredevil, Hulk, Silver Surfer and all the others, but how much did he really do, the skeptics ask? Some have suggested that the artists do most or all of the work, and Stan gets all the credit. To me this makes about as much sense as saying that John Lennon was the only good Beatle.


The classic marvel comics of the 1960s were a true collaboration. Stan helped to bring the full genius of all the great talents to bloom at Marvel. They all had long careers before and sometimes after Marvel, but they were never better than when they teamed up with Stan. Stan had the vision to select these artists and nurture them until they hit their full potential.


Excellence does not happen by accident. A movement like the Marvel Age of comics was carefully constructed, brick by brick by a man of vision. Stan cared the most about quality, excitement and innovation, and that's what put Marvel on top.


Do you want to be the next Stan Lee and revolutionize the field that you are in? Here's what you do. Be a person of boundless energy curiosity and ambition. Care about those around you, and make them feel important. Work with the very best, most talented people, and help guide them to their true potential. Ceaselessly innovate and promote your activities. Make everyone want to belong to your group. Find a new way to make your endeavors fresh and new. And as you move ever onward, and ever higher, don't forget to intone Stan Lee's credo: EXCELSIOR!
Posted by

Lee Hester
at 11:04 AM
2 comments:


About Me
Imagine a World with no comic books. Not worth living.
View my complete profile

Blog Archive