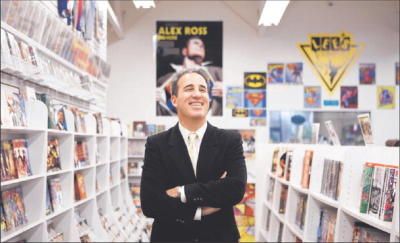 There's a terrific article in today's San Jose Mercury News. It's called
"Graphic novels' growing appeal."
The picture above ran with the article, and I'm quoted in it, but don't let that stop you from reading it.
I'm the most happy about how the the article promotes quality graphic novels. The author, Randy Myers really knows his stuff, and has excellent taste in literate works such as Maus, Persepolis and Blankets. He also mentions popular and compelling ones such as Watchmen, Y: The Last Men, and The Walking Dead. This is one of the best articles that I've seen promoting the kind of Graphic novels that I love the most.
I hope that this article inspires some new readers to try graphic novels.
This article has certainly inspired me, and I intend to start a display of the recommended graphic novels it in my store.