I was going to do daily WonderCon updates, but was not able to. Connie booked a room at the Marriott, so I stayed with her and the girls rather than coming home and doing the updates. Those rooms are plush, and after a hard day's conning, those 300 inch count cotton sheets and fluffy down pillows are like a slice of heaven. I slept like a baby, and wasn't wondering around like a zombie on Sunday, as can happen if you don't get enough rest.
In days gone by, I used to set up at cons, and go to all the parties. I would meet a bunch of new people and stay up until the wee hours. I would have to scream to be heard while talking over loud music. Back at the booth the next day, I would be drained, tired, and horse. Now I've wised up. I figure that you can do a good job at your both, or do a good job networking at the parties, but not both things. I sacrifice the party networking experience and concentrate on the booth performance. I bet you haven't seen me at a convention party in years. If you want to see me, I'll be in my both. That's where the action is for me. I meet a lot of interesting people and have a lot of fun. All kinds of fascinating things are brought to me for consideration. It's nice to have a base of operations like that. Also you get the special badge that allows you to bypass all the lines. That's certainly worth a thousand dollars right there. Getting a booth with drapes and a table is just a bonus.
Sales on Saturday and Sunday were better than Friday, but still slower than expected. A big curiosity was the lack of wall book sales. I was working for months trying to come up with the best wall possible for the Wonder Con, and I thought that I had succeeded. If you want to see my wall books, check out my
ebay store
. The wall books mostly sat around, instead of selling. I'll have to see if this trend continues at the big San Diego convention in July. If this is the case, I'll have to cut back on what I pay for collections, especially for non-key, and lower grade books.
As I mentioned last time, I tried bringing the bin books after not bringing them for a few years. Sales on them were slow, but it might be worthwhile to try them again in San Diego. We brought some comics magazines, and they did well. These include Creepy, Eerie, and Savage Sword of Conan. A really cool lady named Helen bought out all our Savage Sword magazines. I didn't think to tell Helen that the copy of SSOC#1 that she bought from us was autographed by Boris! I hope she gets a thrill when she looks inside.
Helen likes her Conan Savage!
Our bargain books sold well. Mark Crane didn't want me to bring any back,as the loft in San Mateo where we store them is getting overcrowded, so I kept slashing the price. We started out at $5 a book on Friday. On Saturday I lowered them to $2, and on Sunday they were $1 each. At times there were huge mobs gathered around the bargains. If the mobs thinned down a little I went, or sent my son or Mark Arnold out to stir them up a bit.
The crowds swarm around the bargain books.
The secrets of Barking. Okay, here is how to attract a crowd. Do not yell and scream. This does not work. It just gives everyone a headache. I advocate using a more subtle approach. Wait until someone looks over, or is walking in your direction and then engage them. Try to understand their expression and body language. Then tell them about something in your booth. Taylor each message to the individual. Don't treat the crowd like a mass. Talk to each person, one at a time, one on one. You'll sell to some, joke with others, be ignored by some, give some information to others etc. Engage the people in a sincere genuine, and caring way, and you will always maximize sales at a convention. A barker is just an idiot that doesn't have the brain cells to do anything but yell. Most people actively avoid such a person. Make sure not to be one.
All in all, it was a lackluster convention from a sales perspective. All departments did well, except for the one we were counting on - the wall books. I try to turn a profit at these shows, but there is much more to it than that. These shows have great value far beyond how many dollars you put into the register. I do them mostly for outreach. I like to meet the fans, and hopefully get some new customers for my stores. By being a fixture at the San Diego Con, the Wonder Con, The APE, and SuperCon I help assure my visibility in the industry. If you just keep a low profile and stay in your store, they will soon forget about you. In addition, I have made numerous friends over the years that I only see at shows. The WonderCon is small enough for me to seek many of them all out and also get a chance to talk to them. I have 2 stores that are open 363 days a year. If I had to depend on Conventions for my income I would be worried right now. I've been to every Wonder Con, and I'm not going to stop now!
Now on with the photo parade.
Here is an amazingly huge amazon woman. She's like a super-jumbo, punk rock Bettie Page! Everybody in the room wanted to pose with her. I compelled "Little Lee" (6 foot 7) to pose with her. We put a normal sized human in there for scale. Look at her tremble in the shadows of these giants.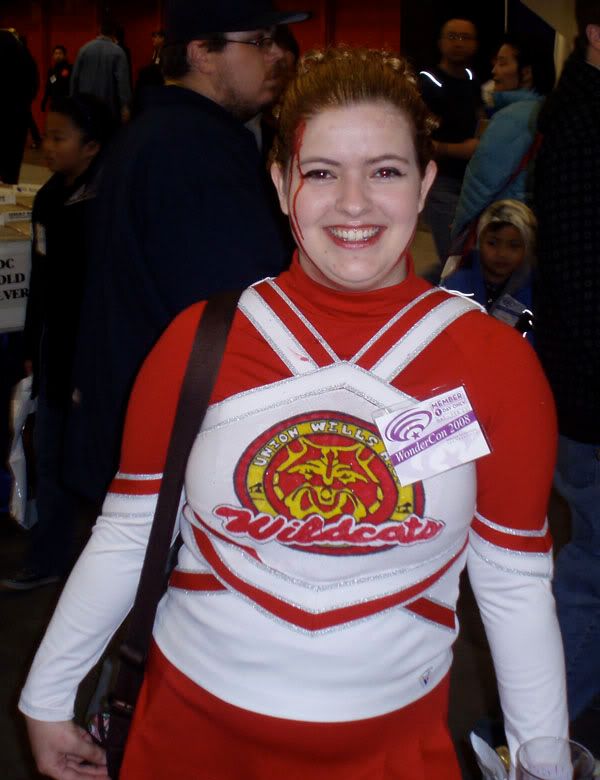 Save the cheerleader.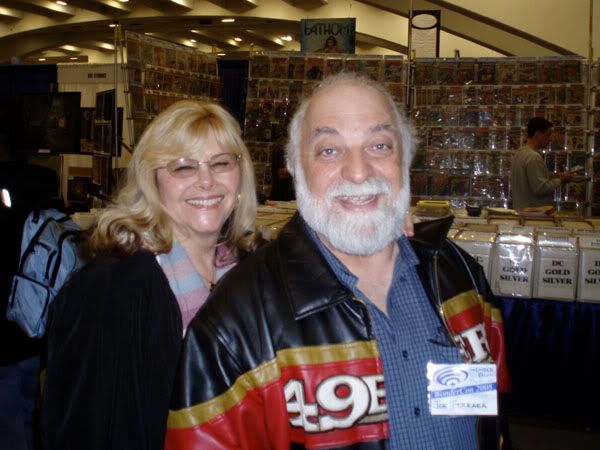 Here are two of my favorite people, Joe and Dottie Ferrara, owners of one of the best comic stores on earth,
Atlantis Fantasyworld
. Make sure to visit them when you are in Santa Cruz.
Here is Suave Shaun Reilly, staff member at Lee's Comics, and dapper man-about town, with the lovely Amelia as Harley Quinn.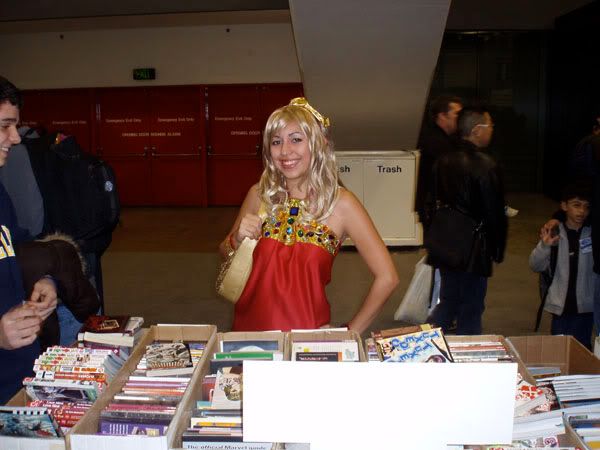 This delightful young girl, dressed up as a character from "High School: The Musical" is seen enjoying our selection of bargain books.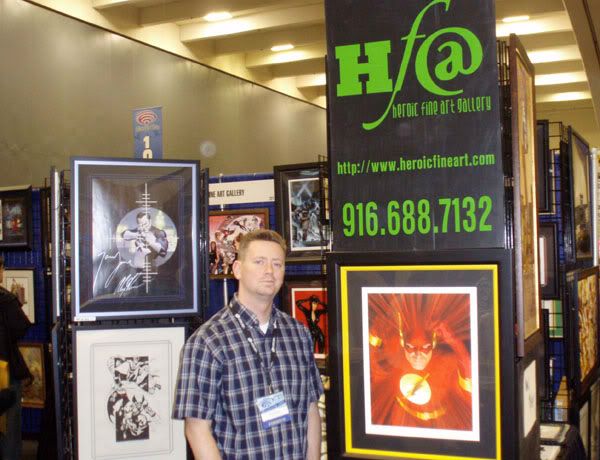 Here's my pal James Fletcher, the owner of
HFA
. This is the place to get beautiful prints and giclees by Alex Ross, Adam Hughes, Jim Lee and others.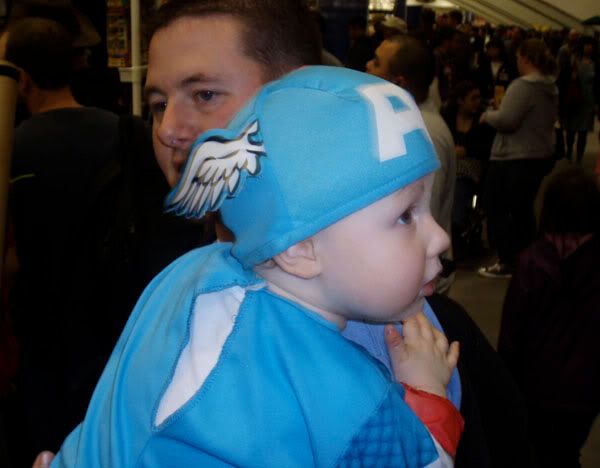 I loved this baby! He's dressed in a Captain America outfit complete with flapping wings on the hat. The dad told me that you can order them online. Adorable!
Here's my pal Bill Morrison, super talented artist and writer for Simpsons comics. He's showing off the vintage Jughead hat that he just acquired. Connie, Hannah, Sophie, and Mark Arnold are all joining in on the fun. Later on, Bill bought a really nice wall book from us, a high grade 1940s Green Hornet comic.
Here's Mark Arnold with the brand new issue of his long running magazine, the Harvyville Fun Times. It is undergoing an upgrade that includes color throughout. Look for it at your finer comic book stores. Mark is with his new publishing partner, Dave Holt, and Mr. Holt's kids, along with his Harvey loving pal, Quinton Clem.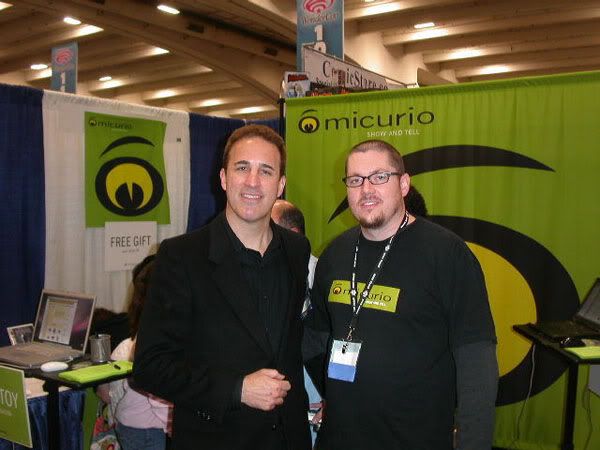 Here's my friend Steve Mortensen helping to spread the word about his great new site for collectors,
Micurio
. I am now a member in good standing, (but don't let that discourage you!)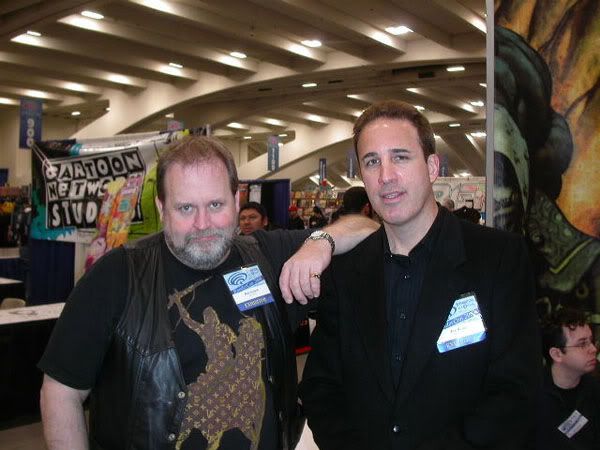 Here I am with the incredible Bob Schreck, a great force for good in Comic
Book Land.
After much deliberation, this man is finally happy with the fit of his
Pure Hero shirt.
Okay, do you want to see Lee geek out? Take a classic Nick Fury Strange Tales cover by Jim Steranko, drawn twice-up. (They stopped using twice up, and switched to the smaller one-and-a-half size in the late 1960s.) Now add the fact that it has unseen Steranko art. The Captain America figure was altered by John Romita. There is a note on the side in pencil that says "Change art and tell Jim." I gawked at this in wonderment several times during the con. I have never seen the likes of it. The asking price was $57,000. Luckily for me, I didn't quite make that amount at the con so I didn't go home with this. (I didn't quite make 10% of that amount either!) You see the original cover as Jim Steranko drew it. Behind it, you see a stat with the changes by Romita. For me, it's the stuff that dreams are made of.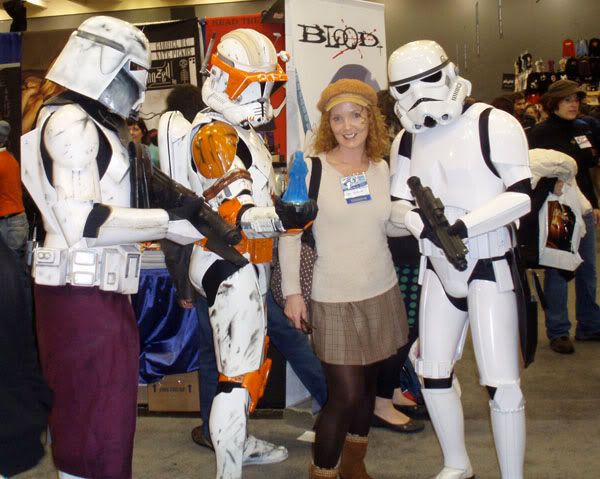 Connie wandered around on Saturday, and got some pictures of her own. They start here. I could never get Connie to watch a minute of the original Star Wars trilogy with me, but here she is, posing with some Imperial Storm Troopers.
The both as shot from above. I think you can see my bald spot.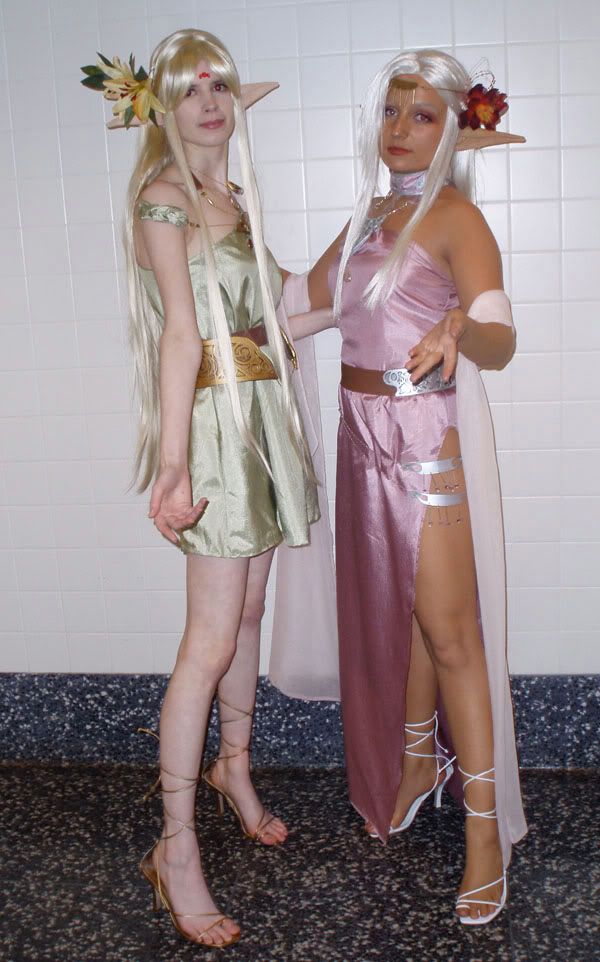 Wow, what great costumes. Elfquest, I presume.
That wraps up this year's Wonder Con report. You won't be seeing a lot of high energy antics from most of the attendees for a few days at least. We must rest up, recharge our batteries, and readjust to the mundane old routine, where giant Amazon women, Super-Heroes and Stormtroopers in the flesh are nowhere to be found.
Your Pal,
- Lee